Vacuum Salt Plant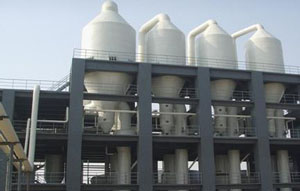 Multiple evaporating system is based on the theory of "the boiling point is reduced under negative pressure". Meanwhile, multiple-effect evaporating system is applied to effectively use the secondary steam to save energy. Under vacuum pressure, the secondary steam from the first effect system become the heating source of the 2nd effect evaporating system, the secondary steam from the 2nd effect evaporating system become the heating source of the 3rd effect system…and so on
Process Briefing:
The brine (raw material) is purified and pre-treated (to precipitate out the magnesium and calcium salt) and again filtered to the brine tank before going to the multiple-effect evaporating & crystallizing system.
The brine is heated by the fresh steam in the 1st effect evaporating system and  the secondary steam come out from the 1st crystallizing system go to the 2nd effect evaporating system as the heat source; the secondary steam comes from the 2nd crystallizing system becomes the heat source of the 3rd evaporating system…and so on.
The slurry from the crystallizing system is with concentration of 50-60%, it goes to the centrifuge and hot air drying system for drying after drying, the salt goes to classifying system and packing system.
Summary:
Capacity: 1TPH~100TPH
Process: Continuous
Evaporating Stage: 3, 4, & 5
Material: Titanium, and SS316L
Controlling Panel: DCS
Shipments Time: 5~8 Months
Warranty: 1 Year
Service: 7/24
For more details, please feel free to contact with us without hesitating.