MVR Salt Evaporating & Crystallizing Plant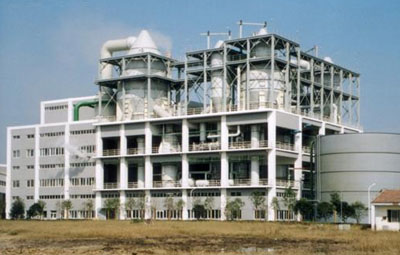 The theory is the vapors from evaporating system is contenting heat and can be re-compressed by a MVR compressor to the temperature required for the evaporating system. The core equipment is the vapor re-compressor which enables the evaporating system requires no fresh steam (except initial starting).
Generally speaking the MVR system is more energy saving than ME system and TVR system. But the final running cost will be decided by local steam cost and electricity cost, even water cost.
Normally an MVR system is with 1 effect evaporating, so that it saves land and civil construction. Meanwhile the steam boiler will be a very small one so that the boiler room area space is also saved.
 Process Briefing:
Before going into the evaporating system, the brine will be pre-heated to the temperature which is close to the boiling point through a two stage of heat exchangers by the condensed water exhausted from the heating chamber.
The preheated brine is delivered into the heating chamber by the forced-circulation pump and goes to the evaporating chamber. The brine is boiling and condensed to crystallization. When the crystal reaches a certain size, it is settled to the bottom of the evaporating by the action of gravity. The crystals are elutriated with cold brine and exhausted to salt slurry tank
The vapors( secondary steam) evaporated from the evaporating chamber goes to the baffle-type demister to get rid of most of the brine carried, then goes to a scrubber to wash away the remained brine drops. The clean vapor goes to the mechanical vapor re-compressor to be compressed to required temperature. After removing of superheat, the compressed steam goes back to the heating chamber to heat the brine to evaporating…in this way, the steam is recycled and no more fresh steam is required in the whole process.
The bittern from the evaporating chamber is exhausted through a separator to a forced-circulation flashing pot, the hot bittern is flashed in vacuum and some small quantity of salt is crystallized. The salt crystals are exhausted to the salt slurry tank from the bottom of the flashing pot.
Summary:
Capacity: 1TPH~80TPH
Process: Continuous
Evaporating Stage: 1
Material: Titanium, and SS316L
Controlling Panel: DCS
Shipments Time: 5~8 Months
Warranty: 1 Year
Service: 7/24
For more details, please feel free to contact with us without hesitating.