Mechanical Salt Refinery Plant
Salt washing plant, salt crush and wash plant, salt impurity extraction plant etc are defined as a mechanical refining system. The main idea is to break the big salt granules to expose as many as possible the impurities and wash out the impurities from the surface of the granules.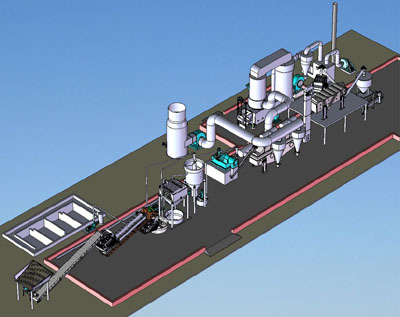 The updated break system is roller pulverizes with roller surface specially processed so that it works mainly cutting the granules to get the less salt powder. And we combine the latest technology of screw washing + stirring washing+ elutriating counter-current washing which can most effectively wash out the impurities and have less loss of NaCl. After the salt is crushed and washed, it goes to drying system to make it dry to required moisture content Iodine and/or free-flow agent is added as per requirement by customers. Sieving system is applied to classify different size of granules as per different application (cooking salt, table salt, industrial salt etc) after sieving the salt is packed either into big bags of 50kgs (or any other size required by clients) and small bags of 250-1000g (or any other size required by customers) the finish salt is dry, white, glossy, free flow.
According to raw salt quality, we have combination of 3crushing+4washing, 3 crushing+3washing, 2crushing+2washing, and dry crushing.
Summary:
Capacity: 1TPH~30TPH
Process: Continuous
Material: SS316L
Controlling System: Cabinet/PLC
Shipments Time: 3~5 Months
Warranty: 1 Year
Service: 7/24
For more details, please feel free to contact with us without hesitating.